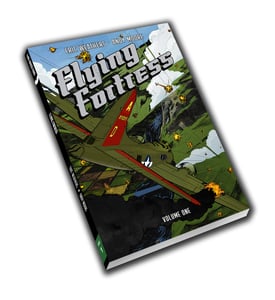 $

20.00
Clocking in at 92 pages, The Volume One second printing collects Issues #1-#4 of the comic into a paperback book.
The year is 1943. 'Flying Fortress' is a roaring pulp adventure about
a top-notch B-17 crew tasked with one final mission before their
tour of duty ends: To bomb Hitler's Eagle's Nest.
Things go awry as they crash-land in the Black Forest and discover
a land adrift in the mists of time. Unimaginable terrors await them
as the operation unravels and the crew discovers a hidden medieval land.